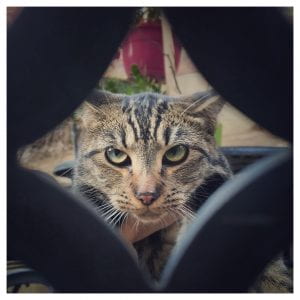 I have some pretty strong composition in my photos.
I think I did a good job editing my photos. I really like the vintage tint I put on them because I feel like that's my cats vibe. Its anything vintage or spooky.
Something I would do differently if I shot this assignment again would be to use my other cat as my subject because this cat right here was giving me a hard time and she did not want to stay still for one second and as you can see, she looks mad. I also would use some different objects to frame my subject to make it look cooler.
I think the photo on the right belongs on the blog and should be considered the best out of all photo classes because I framed my subject really well and because my cat looks funny!